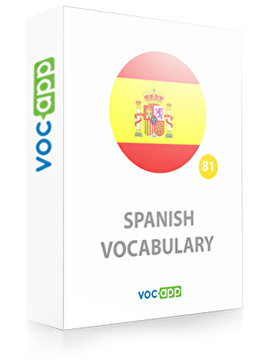 Appearance - Aspecto




71 Datenblatt

Basic Adjectives, Adverbs, Prepositions, Conjunctions and Pronouns, et...




17 Datenblatt

Basic Verbs - Verbos Básicos




123 Datenblatt

Basic Phrasal Verbs - Verbos Preposicionales Basícos




111 Datenblatt

Colours and Shapes - Colores y Formas




29 Datenblatt

Characteristics - Características




165 Datenblatt

Computers, Internet and New Technologies - Ordenadores, Internet y Nue...




54 Datenblatt

Country and Politics - Estado y Política




43 Datenblatt

Alle Klassen (46)
Wszystkie kursy są objęte gwarancją zwrotu 100% zapłaconej ceny.
Do skorzystania z gwarancji nie jest wymagane przedstawienia żadnego powodu.
Z tej gwarancji mogą Państwo skorzystać w ciągu 30 dni od daty zakupu.
Pieniądze zostaną zwrócone na konto najpóźniej w ciągu 30 dni od kiedy dostanę informację, że chcą Państwo skorzystać z tej gwarancji.
Informacja o chęci skorzystania z gwarancji może zostać przesłana pocztą bądź e-mailem.
Marcin Młodzki
,
członek zarządu
(Warszawa, 1. października 2018)
VocApp Sp. z o.o.
ul. Mielczarskiego 8/58 | 02-798 Warszawa
NIP: 951 245 79 19 | REGON: 369727696
vocapp@vocapp.com
Adresse
VocApp Sp. z o.o.
ul. Mielczarskiego 8/58
02-798 Warszawa
NIP: 951 245 79 19
REGON: 369727696
---