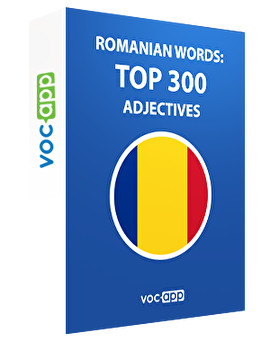 Romanian Words: Top 300 Adjectives
Take your Romanian to a new level
Introduce some new adjectives to your vocabulary
Be able to describe any thing, activity or situation
Improve greatly your Romanian
Be fluent and feel comfortable talking in Romanian
Summe
Romanian Words: Top 300 Adjectives
---
€9.99

*
---
versuchen Sie es kostenlos (20 Datenblatt)
Kaufen Sie vollen Zugang
Wszystkie kursy są objęte gwarancją zwrotu 100% zapłaconej ceny.
Do skorzystania z gwarancji nie jest wymagane przedstawienia żadnego powodu.
Z tej gwarancji mogą Państwo skorzystać w ciągu 30 dni od daty zakupu.
Pieniądze zostaną zwrócone na konto najpóźniej w ciągu 30 dni od kiedy dostanę informację, że chcą Państwo skorzystać z tej gwarancji.
Informacja o chęci skorzystania z gwarancji może zostać przesłana pocztą bądź e-mailem.
Marcin Młodzki
,
członek zarządu
(Warszawa, 1. października 2018)
VocApp Sp. z o.o.
ul. Mielczarskiego 8/58 | 02-798 Warszawa
NIP: 951 245 79 19 | REGON: 369727696
vocapp@vocapp.com
Adresse
VocApp Sp. z o.o.
ul. Mielczarskiego 8/58
02-798 Warszawa
NIP: 951 245 79 19
REGON: 369727696
Learn Romanian with VocApp
Do you want to learn Romanian and speak this beautiful Romance language? Maybe your goal is to understand the famous Dragostea din Tei song? Planning to learn Romanian for a trip or volunteering and don't know where to start? We have everything prepared! Our platform is the best way to learn Romanian online! There are many Romanian courses our linguists created, they include useful Romanian vocabulary on different topics. Let's start learning Romanian together!
Learn to speak Romanian with VocApp
Our Romanian language courses include fun flashcards that will present you important Romanian words and their usage. Each of the words has a Romanian to English translation, example sentences, and explanations for you to learn Romanian grammar and, of course, Romanian pronunciation. Our linguists choose carefully the Romanian vocabulary they include, so you will know all of the most common words and be able to express yourself freely! The special Spaced Repetition System will remind you to study and will guarantee you remembered all the new Romanian words forever!
Which Romanian adjective describes you?
The importance of adjectives is indisputable! Learning Romanian adjectives will help you express yourself interestingly and describe things precisely. We created a course of the most frequently used words that we believe will be very useful. This Romanian word list consists of 300 most common adjectives that anyone should master to speak Romanian. We recommend investing time into this course and repeating all the most difficult words. After that, we are sure you will be ready to proceed to the other courses, for example Romanian Words: Top 1000 Nouns and Romanian Words: Top 500 Verbs. Your dream to speak Romanian as a native will soon become reality!
---